WHAT KIND OF VOLUNTEER WORK CAN I DO?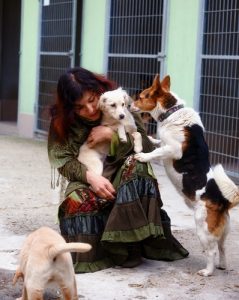 At Friends Forever, we are always in need of more helping hands for our furry friends. Have a look at the various ways you can help below and let us know if you have fresh ideas of your own.
Your gift of time can make a huge impact on our animals and their well-being. No gift is too small!
Below are some areas where we can always use your help.
Taking care of our favorite dogs and cats is an ongoing job and it takes a lot of help to keep them groomed, happy, and socialized. Professional trainers and animal lovers alike are welcome. Come visit with our cats or walk our dogs. Help train or groom our furry friends, spruce up their living areas, or even take home their blankets and give them a wash. Every bit helps!
How are your writing and organizational skills? We can always use help with mailings from sorting to folding to labeling. Or maybe you'd like to contribute some newsletter articles or help us with thank you notes. We have various office and computer work for those who are willing and able!
Events, events, events! Events bring deeply appreciated funds but they require lots of help too! Why not give your Betty Crocker talents a whirl and bake for our annual cookie walk or other fundraising events? Or you could help us serve up the goods on Chili Day. For rummage sales, we need help sorting and checking items. You could run the booths at stores and fairs or dress up in a dog or cat costume at various events - FUN!
If baking a cake for a fundraiser isn't your speed, maybe you'd like to help us with handiwork that is seemingly always in need. If you have skills in carpentry, electrical work, or plumbing and would like to volunteer your talents, please let us know. If we don't have an immediate job that suits your availability, then we can keep your contact information on file, and maybe you'll be available to help the next time. Any maintenance help is appreciated.
If you're from around here, then you know we have a lot of ground to cover to keep the Dog Park in tip-top shape for our favorite dogs. Bring your garden gloves and grab some weeds, prune the flowers, or leave the gloves and mow the lawn. We always need the extra hands.
EDUCATIONAL & THERAPY PROGRAMS
We need volunteers who can join us on visits to area nursing homes and schools. There is nothing more rewarding than brightening someone's day with a lovable cat or dog!
WE CAN'T WAIT TO HEAR FROM YOU!
Choose your specialty and fill out the Volunteer application today.